The Surroundings
A special place, hidden in the green, located at the border of Veluwe and Betuwe: that's what Heveadorp is. A place where a fox crosses the road, an owl screeches at night and where people still greet each other at the bus stop.
The B&B lies at a two-minute-walk from the woods, with fields and far views over the river Rhine. Walking there is wonderful, and cycling over the many cycle tracks is lovely, at least, if you manage to cope with the little hills there…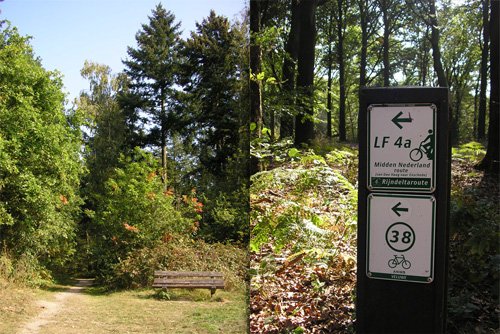 Sights
The seventeenth century castle of Doorwerth is ten minutes ride by bicycle from B&B "De kleine Valkenier". Arnhem as well as Wageningen lay on a distance of ten minutes by car, and the way to our National Park "De Hoge Veluwe" will take you twenty minutes by car.
Interesting places nearby are the Openluchtmuseum and the Museum Kröller-Müller with its famous Van Goghs. The Museum for Modern Art in Arnhem is also worth visiting. In Wageningen you'll find a very fine botanic garden which is especially worth seeing in the spring. The Airborne Museum is situated in Oosterbeek. It tells us about the battle of Arnhem, but especially about the strong fights in Oosterbeek which were part of the 'Operation Market Garden' in the Second World War. The yearly held Airborne Walk, with thousands of participants from all over the world, is a testimony of the on-going interest in this history.
Stichting Het Nationale Park De hoge Veluwe
Nederlands Openlucht Museum Arnhem
Museum voor Moderne Kunst Arnhem
Botanische Tuinen Wageningen Universiteit
Airborne Museum (Battle of Arnhem)
Restaurants
The outstanding Italian restaurant 'Adriano' is at two minutes distance – on foot – from our B&B. But both a simple pizza restaurant and a good Chinese restaurant is nearby as well. For a delicious Italian ice cream we like to cycle twenty minutes through woodlands to 'La Farfalla' in Oosterbeek.
In this or any other subject we'll advise you with pleasure. For a longer or shorter stay: we'd love to let you join us in enjoying this special place, where we have lived grateful for already many years.