History in a blink
From the name "De kleine Valkenier" ("The little Falconer") you may suspect there exists also a somewhat bigger "Valkenier". And in fact, until some years ago, this is how it was. "De Valkenier" was a restaurant in Heveadorp, its name came from de so-called "Valkeniersbossen" ("Falconerswoods") nearby. These woods in turn were named after a merchant from Amsterdam, Jan Valckenier, but no one these days seems to know why.
These woodlands came into the possession of J.W.F. Scheffer in 1903, the owner of a model-farm, called "Het Huis ter Aa". This farm, situated at the entrance of the village wanted to produce milk in a way that was as modern as could be. Hygienics were of the utmost importance; even the sheds were lined with tiles!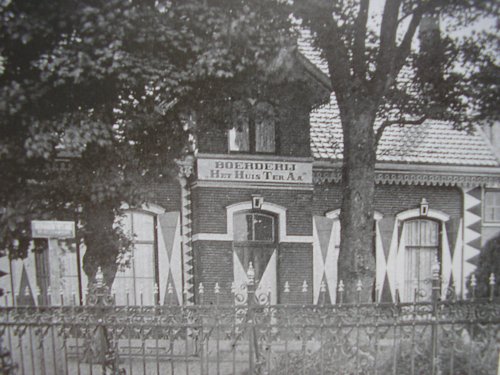 Scheffer also owned "De Duno", an estate with hotel on a plateau at the west side of Heveadorp. From there, guests had a glorious view over the river Rhine. The view is still the same, the hotel however was completely destroyed in 1944-1945. But many sweet-smelling azalea's, mysterious mosaic floors and long stairs in the middle of the wood give us hints of what ones was!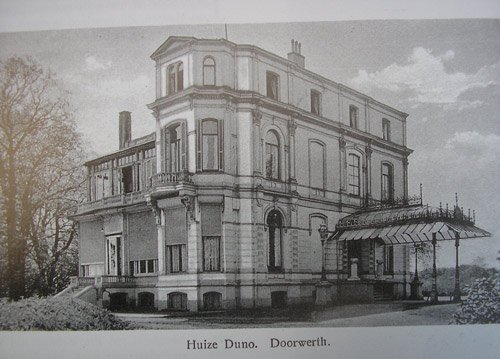 After some time, the farm was not payable anymore, and in 1915 the firm "Wilhelmi & co" founded in its place the Heveafactories, where they worked up rubber. The Latin name for the Brasilean rubbertree is 'Hevea Brasiliensis'. That makes it clear where our village got its name from!
For the workers there were built cottages, all in English style. About these houses still exist some nice old stories. It's said for example that the little hedges in front of the cottages were being controlled every now and then: they must all be of exactly the same height. If a hedge was found too high, the owner of it was seriously being spoken to by an overseer… And the houses of the overseers were a triffle bigger than that of the workers: difference must be made…
During the second worldwar some of the houses were destroyed. Two new houses were built for the overseers, without the picturesque thatched roofs that the other houses had, but again a little bit bigger than the original ones. Moreover, at that time they were modern, with bigger windows and even a small garden. It is in one of these two houses that your B&B is located.
The inhabitants of Heveadorp are proud of their village, they like to tell you about it. We, Wim Meurs and Elisabeth Rault, want to continue the tradition of hospitality in the middle of these wonderful surroundings. Above all we hope B&B "De kleine Valkenier" will be to your liking!